ADN: You normally use many unconventional instruments. What is their function in your music?
JACQUES: Yes, I often use unconventional instruments. For example with LOL I played plastic bags and a small trash shovel. It was mainly because there was nothing else available. The use of this kind of instruments represents both, theatre and sound. We are at the presence of unusual sonorous elements when compared with conventional instruments. It is not a very important thing to me, but it is true that I often use such unconventional instruments, without taking a real research on them. You know, on PARALLELES I play a bicycle as background to VINCE TAYLOR'S voice…but it is not indispensable when it comes it comes, sometimes yes sometimes not at all!!
ADN: Are these sounds completely casual?
JACQUES: Yes, they are completely improvised. You grab a glass and a pencil and make music. That's surely improvisation! That is why we have a theatrical and a visual aspect which I think are important.
ADN: Did you start using unconventional instruments from the beginning?
JACQUES: On MUSIQ MUSIK I used explosives and many other unusual instruments such as Iraqi and Syrian bells and Tibetan Instruments etc… I also played an human bone , exactly a feminine one. It was during the concert with Coxhill. It is a wonderful human bone I bought in Nepal and it is used by Tibetan monks

as a trumpet during their ceremonies.
ADN: Is improvisation a necessity for you?
JACQUES: I don't know. I don't think so because I also make written music. In concert it is always very strange. Anyway there is a big difference between concert and studio work even if you have a written music. Improvisation is very important but not as an absolute thing. In any case, also written music derives from improvisation. A composer, even if his name is J.S. BACH, improvises on the piano and when he finds something interesting instead of leaving it to itself he arranges it and works

on it. I love improvising but not with everyone.
ADN: LOL COXHILL said he can play with everyone because he always plays his own music, is it not the same thing for you?
JACQUES: I think so, because it is not always easy, it depends on whom you are playing with. That is very important musically and humanly. If you

ask someone to play with you , it is a definite person who has to play his role. It is a delicate situation when you can't do what you want. That is the reason why there is somebody I can't play with anymore.
ADN: What do you think about music today?
JACQUES: At the moment I don't listen to much music. I find actual jazz terribly boring. If I have to buy a jazz record I prefer to buy records of THELONIUS MONK or ORNETTE COLEMANN. Most part of new American jazzmen who surely play at a better technical level have no convincing arguments to me. I like MILES DAVIS: I try to listen to music in the rock field but I don't find either many interesting things. Lately I appreciated very much TUXEDOMOON, JAMES WHITE and DNA. I also like PIL and LIDIA LUNCH. Sometimes I also listen to old rock which is not bad at all! ROBERT FRIPP is very good indeed!!
ADN: In your last record I heard a punk influence, is this true?
JACQUES: Yes, vocals are probably influenced in that way. I think that Punk was a necessary movement because pop music was becoming unbearable. It was a sort of Syrup! It was " I love you . You love me", ecologist and anti-nuclear. It is nice, pleasant but boring! It was time for someone to come and play aloud no matter what, a little bit like an explosion of free

jazz in the rock scene, naturally not with the same political implications. Now I care about theatre and about people who made much for it as ANTONIN ARTAUD. Sometimes it is difficult to talk about our influences because everything influences us….just like now with those people who are working down the street , the record we are playing in this room… may be I will do something with all this. It is something coming from the outside, it is re-elaborated through our minds and stomachs like in a workshop and pushed to the outside again.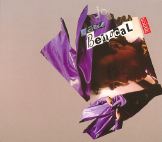 ADN: What about your record with NURSE WITH WOUND?
JACQUES: STEVE first knew me through my records he bought in Great Britain. Thereafter he sent me his cassettes of free electronic music and asked me to participate to one of his records. I also participated to a compilation with a track I made completely alone. A written composition where I played drums, trumpet, trombone and polyphonic synth. I made a classic repetitive piece that I never made before. I have to thank Steve for this opportunity. The record I made with him in London was a good experience even if I don't like very much the mixing.
ADN: You have grown up with French free jazz music. What do you think about MICHEL PORTALor WORKSHOP DE LYON ?
JACQUES : I like very much MICHEL PORTAL and I think he is a great and fascinating musician . He can do very well. He can play classical music. I heard some very good things of BRAHMS with him playing clarinet. He can play contemporary music just like pieces of BERIO I heard of him. He plays interesting jazz and free jazz.
ADN: Can you tell us something about the group CATALOGUE?
JACQUES: CATALOGUE started in 1979. Now I'm playing in the second line-up of the group with GILBERT ARTMAN and J.F. PAUVROS. Sometimes other musicians join the group playing synth or piano. I don't know

how long this line-up will last.
ADN: What about latest record of CATALOGUE?
JACQUES: It was recorded in a brewery though it was not easy to play because everybody there was drunk. The atmosphere was not favourable but everything went the right way. Werner , who is the producer of the record, wanted something live and quick. That is why we recorded it in 2 nights. I am not used to work that way because ,normally, when I make a record I think and work very much on it. With Werner everything went very rapidly because he said it had to be like that. I like it! I think that Werner has a great personality because he knows what he wants and above all what he does not want, starting from the cover to the whole conception of the final result. He is a very important person in actual music scene and he knows every trend quite well. HAT HUT is the only solid label I know which makes a serious research on music.
ADN: Which are your future projects?
JACQUES: I will continue my activity with CATALOGUE and APPLICATION

together with MARC DUFOUR an other musicians of AXOLOTL. These two groups pursue two different directions and that's why I am interested in both of them. I will do many more things with LOL COXHILL who made a record

having on it a track of our concert in Reims during the festival of oblique musics. I also have a project with DEREK BAILEY but at the moment he is in the States and I don't know when he will be back. I made a concert with PAUL LYTTON and PHIL WACHSMAN. It was a great experience, PHIL is really an

extraordinary violinist. I think that LOL is a wonderful musician, open minded, generous, very intelligent and a good friend. He has a great sense of humour and he is a little bit crazy. He does not really know where he is and people don't really know who he is exactly and what he does, that's why they love him.
AND: Who are your favourite writers and painters?
JACQUES: I like ARTAUD very much. I am very interested

in painting and any other artistic form based on behaviour styles. I like ANDY WARHOLvery much, in fact I have a copy of one of his paintings in my bath room. I love his personality and will power. I also like the paintings of MATISSE very much and I estimate ROGER EDGAR GILLETwho is a painter having a great interest in music. In the area of classical music I

love SATIE and FORET.
ADN: If you were not a musician, what would you do?
JACQUES: I don't know. If I had not my music, for sure, I would suffer enormously. Even if making music is sufference as well caused by heartache and doubts involved in it's realisation. Anyhow if I had not my music I surely would be an unhappy man.
ADN: Can you live from your music?
JACQUES: It is very difficult above all if you choose not to make commercial music . It is not a matter of refusal but a natural and spontaneous choice. My music is hard to be listened to and consequently hard to be sold. Good commercial music is very difficult to be made and if you have no inclination for this stuff you surely sell few records. Your music has few passages on radio or tv and your concerts are quite rare. I probably could live from music if I made music for films and theatre. Till now I made the soundtracks for 3 movies Patrick Radeau's "La mauvaise

memoire"-Denis Dergrand's "Printemps de square"

J.M. Carre's "Votre enfant m'interesse". Anyhow I really don't criticize well made commercial music even if I don't like it. I find it very difficult to write music about a story of a typist returning home at night discovering that her husband is not there …or summer holidays when lovers hold each other tight on the sand. All this must be not too intellectual to work out. I think that it is a very difficult profession!
ADN: Could you tell us something about your musical origins?
JACQUES: I started with music when I was ten years old

singing in a chorus specialized in Renaissance songs and I loved it very much. Later I listened to jazz and rock. Then I began to appreciate the sounds from foreign countries like Arabia, India and Tibet. In fact my record MUSIK MUSIQ is a spontaneous record of travel impressions while my second record

CATALOGUE is a collage of experiences. What I wanted to realise was in reality a book of nightmares. Anyhow Catalogue was originally the name of one of the tracks featured on the record.

My third record CATALOGUE LIVE IN ANTWERPEN is, as all our live performances, based mainly on the inner feelings of the musicians involved.